Yu-Gi-Oh! CD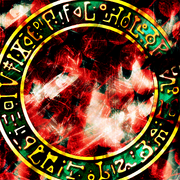 Genre Action, Adventure, Gaming
Debut April 2010
No. of Episodes 1 as of April 3rd 2010
Yu-Gi-Oh! CD is the latest Yu-Gi-Oh! Series. It will begin to be released in April 2010. The premiere of the series will be on January 4th 2010, where the first chapter will be available to read. A free promo card will also be available to anyone who goes to this event. This promo is Shoot Fighter.
Characters
Edit
Alkan Ronuti - The main character.
Clyde Stevenson - Best friends with Alkan.
Relic Galson - Rivals with Alkan. He is a Champion Duelist.
Sarah Dochini - A female character who runs into the story a few Chapters in.
Inspector Logan - An inspector who is rivals with Alkan.
NOTE: These aren't all the characters, but are some of the main ones. Other characters will be revealed at an airdate.
Storyline
Edit
Season One
Edit
Alkan has nightmares for three months, and is shocked when he finds out Clyde and Relic are having the same ones. Relic decides to run away and try to become the champion duelist of Menometric City. After his escape, Alkan and Clyde have no luck finding him. Alkanthen comes across his rival, Inspector Logan, who says that he may know about what happened. When Alkan demands for answers, Inspector Logan denies giving information. Thus, a duel begins between Alkan and Inspector Logan.
Alkan wakes up to find Clyde missing, so he sets out to find him. He follows any clues of to where he may have gone, and is eventually lead to, Relic. Alkan then duels Relic and tries to get information about Clyde's disappearance. However, Relic denies knowing anything of this, and leaves Alkan with many thoughts racing around his mind. Little does he know, that an evil gang is at work, and that he is more important than he knows.
Community content is available under
CC-BY-SA
unless otherwise noted.